New 2023 Tremoline FT36M
Original Locking Tremolo System
PLAYING CONVENIENCE - achieved thanks to the original compact multilayer saddle construction and the FLAT-TOP design.  PALM MUTING playing convenience without any protruding screws over the top of the saddles.
ENHANCED TUNING STABILITY - achieved thanks to the low friction in some crucial contact points, the locking of the strings and … the springs, and the use of solid milled Spring Claw. Dive bombs till your strings hit your pickups, high pitch squeals or trem arm flutters – No problem, the guitar stays perfectly in tune.
BUTTERY-SMOOTH ACTION - the use of our original TREMOLO ARM FIXING SYSTEM with hidden spring mounted and fixed into the Sustain Block, and also plastic sleeve made of special engineering plastics, which is designed to withstand heavy loads (It is acid-resistant, dimensionally stable, long lasting and provide low friction) give you that velvety luxurious feel without any backlash, clicking or rattling.
EASY and PRECISE FINE TUNING ADJUSTMENT – the Tremoline FT36M allows very fast, easy and and intuitive fine tuning adjustment with your thumb and index fingers, but also with allen key or with the Adjustment screw. The replacement of the ordinary V-shape string slots into the Locking Nut base with thin U-shape slots also helps to the lack of need (or minimal need) of fine tuning adjustment.
FAST and PRECISE INTONATION ADJUSTMENT – the Tremoline FT36M is equipped with an Adjustment screw allowing very fast, precise and easy Intonation adjustment without need of using of additional intonation tool.
EXTENDED STRING LIFE – the use of our original FULL-STRING-CONTACT DESIGN for all string channels into the saddle bodies leads to the lack (or huge reduction) of the unwanted string breakage.
EXTREME LOW and FLAT PROFILE - achieved thanks to the original solution of lowered fine tuning screws and the hidden fine tuning springs into the saddles bodies.  Patented in the USA, Germany and other countries.
SOLID STAINLESS STEEL – the Tremoline FT36M is the only tremolo system that is produced only from solid bars and sheets of specially selected STAINLESS STEEL alloys through variety of cold machining processes. No Casting or Sintering processes with poor or questionable part mechanical properties. In addition, it is equipped only with stainless steel fasteners.
NOISELESS SPRINGS – all tremolo springs are manufactured from precisely selected STAINLESS STEEL spring wires without any galvanic (Chrome, Zinc or Copper plating) or Polymer coating. They are also tightly locked to the bottom of the Sustain Block.
FITS RECESSED FR CAVITY GUITARS – thanks to its ULTRA COMPACT and SMART DESIGN the Tremoline FT36M is a fully functional RETROFIT of the most widely spread Double Locking Tremolo System (FR Original, Special, 1000, PRO and etc.) without any need of additional wood work (around nut and trem cavity).
LACK of ADDITIONAL SUSTAIN BLOCK – using of our original VARIABLE-SUSTAIN-BLOCK-HEIGHT SYSTEM leads to a lack of purchasing the additional sustain block with different height. There are a few height options achieved by means of additional retainer plates. No need of additional 32, 37 or 42mm Block.
VARIETY OF LOCKING NUTS (and fixing options) - the Tremoline FT36M is equipped with one of four types of Locking Nuts – right-handed - R2 (width-41.4mm) or R3 (width-42.8mm) and left-handed - L2 or L3. Also there are two fixing options - from above (by two wood screws) and from underneath (by two metric thread screws).
BETTER SOUND and VIBRATION TRANSFER – achieved thanks to the use of our original FULL-STRING-CONTACT DESIGN for all string channels into the saddle bodies and the locking nut, and also of the use of high quality materials.
ENHANCED SUSTAIN – achieved thanks to the use of a thicker and solid stainless steel Sustain Block.
LACK of MAGNETIC INTERFERENCE NOISE – achieved thanks to the use of non-magnetic stainless steel for most of the parts.
RoHS 2 – all parts comply with RoHS 2 (European Directive 2011/65/EU for the Restriction of use of certain Hazardous Substances).
NON-ALLERGENIC - all parts are NON-ALLERGENIC and comply with ISO 10993-10 (European standard for biocompatibility).
DURABILITY and APPEARANCE – the Tremoline FT36M with its STAINLESS STEEL nature will be stay strong, shiny and spotless for many years.
REMARKABLE and ERGONOMIC DESIGN - achieved thanks to our philosophy "From a Piece of Steel... to a Piece of Art" with obsessive Attention to Detail.
MADE in EU - Made with love and care in the EU.
ENDLESS LIST of SMALL almost INVISIBLE IMPROVEMENTS - achieved thanks to the years of painstaking research and development of the Tremoline FT36M.
OFFERING ONLY as a SET (tremolo unit + locking nut) – this is the ONLY way that guarantee the functionality and quality of the Tremoline FT36M tremolo system.
Welcome to the Tremoline web site!
Here you will meet our vision of creating better musical instruments that meet even higher requirements of musicians and that of using the achievements of the technology of the 21 century.
This is a story of how the sum of uncountable small improvements have become real inventions through Passion, Creativity, Persistence and Faith.
Now we are very pleased to introduce you to our project:
Tremoline FT36 and FT36M (2023) are ORIGINAL Flat Top Fine Tuning Double Locking Tremolo Systems, invented by Teodor Maslarov and patented in the USA, Germany and other countries.
This project started years ago as an idea, which came from the hobby of an educated engineer and self-taught guitarist.
Actually at the bottom of this project there were two very important things:
HUGE UNSATISFACTION and asking the RIGHT QUESTIONS, as following:
WHY do the screws protrude above the top surface and constantly hinder my hand?
WHY do the strings sound so poor and without any sustain?
WHAT are the reasons to all these problems?
WHO are the people trying to find the answers to these questions?
WHAT were the solutions proposed by inventors and manufacturers?
HOW can I find a solution to all of these problems?
HOW can the science of engineering help me?
HOW can I propose a smart and workable solution as a piece of art with a remarkable design?
You can find more detailed information and attached technical documents about our Original TREMOLO SYSTEMS and LOCKING NUTS on the exact subpages.
Thank you for your attention of visiting Tremoline web site!
Sincerely yours,
The Tremoline Team
We strongly believe that the best way you can LOOK, LISTEN TO & FEEL the advantages of the Tremoline FT36M are real performances that you can find in following Instagram and YouTube links.
A few words from Teodor Maslarov (the inventor of the Tremoline FT36M) about the recording session May 2023:
Our aim was to show and present you the Tremoline FT36M in real playing situations and also to demonstrate you the playing convenience and the tuning stability. There are no any audio and video montage, editing or speed changes through the whole length of every track, just raw material with all natural playing mistakes that accompanies the live performances. Our original idea was to show you more than 50 minutes real uninterrupted video from one camera and one point of view, but it would be very boring for you and also it is related to playing mistakes. All the tracks were recorded in just a two-hour session – not bad for a non-professional as me.
May 09, 2023 - Sofia, Bulgaria
[>]  Tremoline OCT16-215 demonstration track
[>]  Tremoline MAY17-215 demonstration track
[>]  Tremoline JUL16-110 demonstration track
[>]  Tremoline MAR17-110 demonstration track
[>]  Tremoline OCT15-200 demonstration track
[>]  Tremoline FEB18-110 demonstration track
[>]  Tremoline AUG17-130 demonstration track
[>]  Tremoline APR15-200 demonstration track
[>]  Tremoline JUN15-130 demonstration track
[>]  Tremoline NOE14-200 demonstration track
[>]  Tremoline DEC14-200 demonstration track
EytschPi42 - Tremoline review
"The Floyd Rose Tremolo was groundbreaking, but one would think that nowadays we can come with something more elegant and easier to set up ... well, someone did!"
(The review is realized July 2022 and describe the Tremoline FT36 - Model 2022)
TREMOLINE Ltd. is based in Sofia, Bulgaria and specialized in research and development, design, engineering and production of ORIGINAL and INNOVATIVE Guitar Tremolo systems and hardware.
The company is family owned, founded by Teodor Maslarov who is an engineer (MSc degree in mechanical engineering at Technical University – Sofia), inventor (granted patents in US, Germany …), entrepreneur, self-taught enthusiast guitar player and passionate listener of Rock music.
OUR MISSION
The achievement of BETTER PERFORMANCE through real constant improvements in two directions - MORE CONVENIENCE and SOUND QUALITY.
OUR PHILOSOPHY
Through the whole process of development and improvement we realized and convinced ourselves in the power of KAI-ZEN philosophy and continuously Searching for PERFECTION.
We are REAL GUITAR PLAYERS and we have always tried to reach the perfect performance.
We are REAL ENGINEERS and believe in our knowledge, skills, and way of thinking.
We are REAL INVENTORS and we have always tried to find improvements in places where others would not dare to try.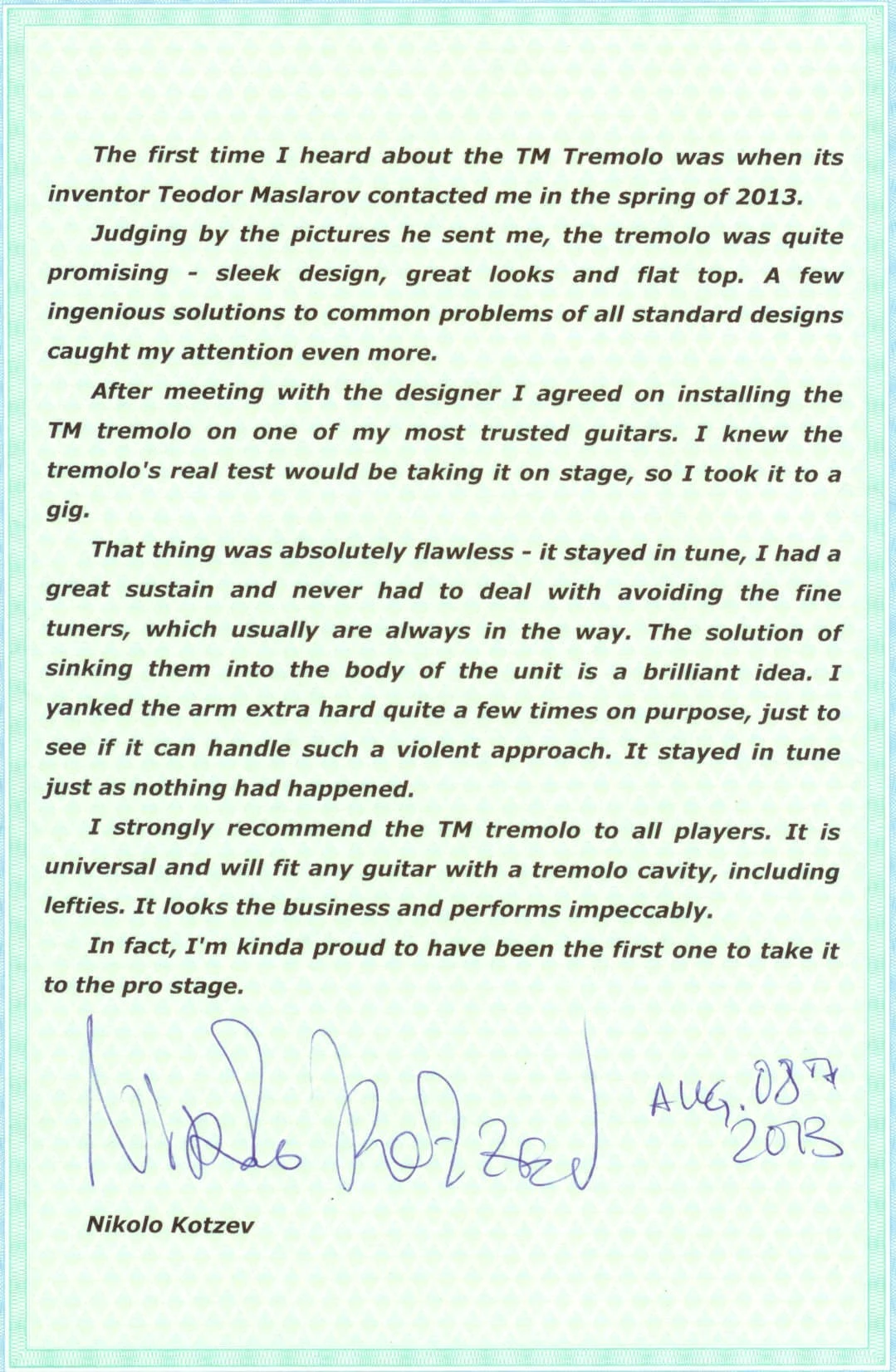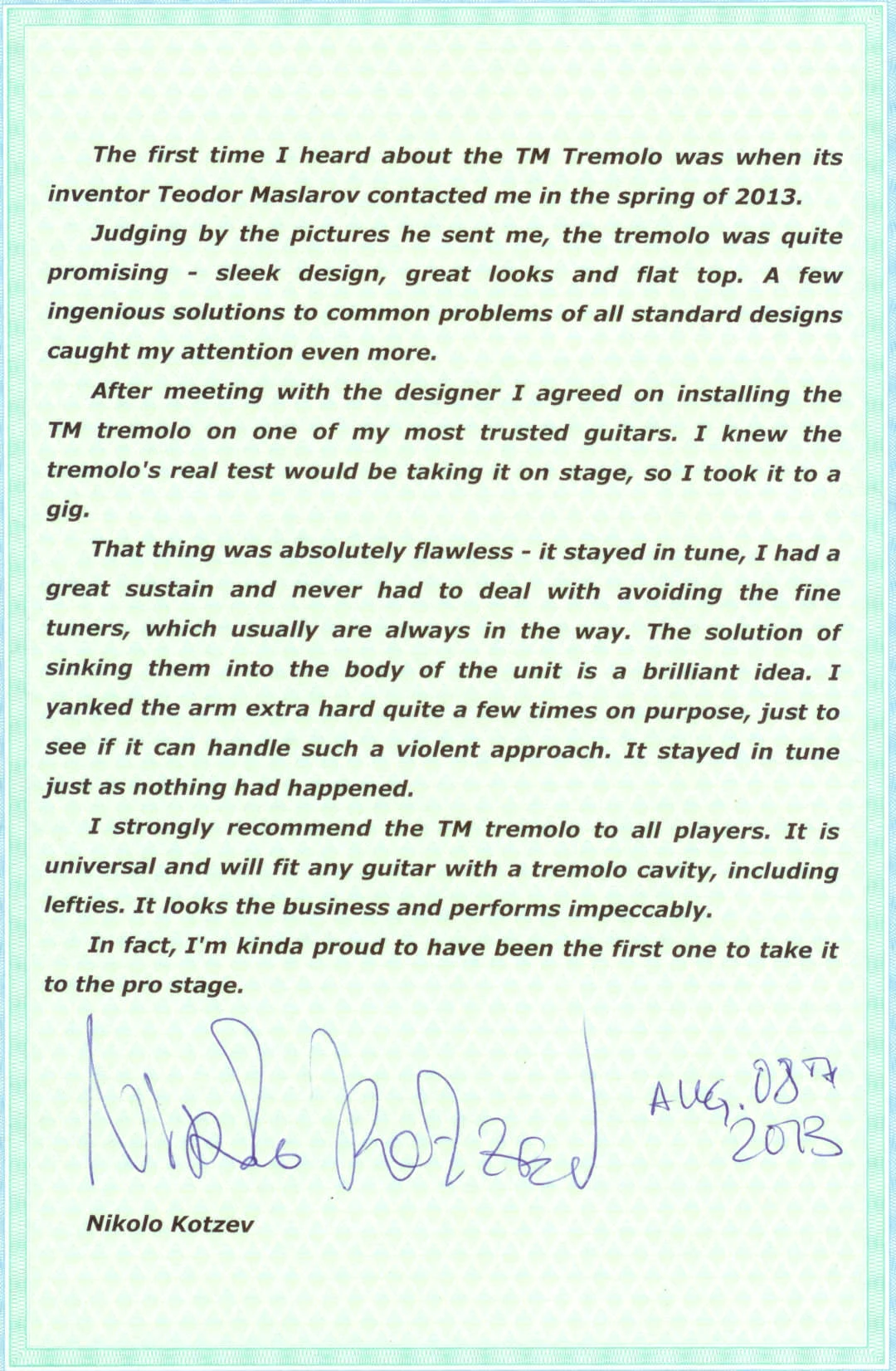 "This is genuinely the most well engineered double locking system on the market today. Incredibly well made out of high quality metals, everything about it feels top of the line and because of how every adjustment screw is positioned, its extremely easy to use and set up. Also this came with very fast shipping. Zero complaints, fantastic bridge!"
Sebastian Pensinger (USA) – June 18, 2023
Ordered - Tremoline FT36M-R3-BS, Black Stainless Steel double locking tremolo


"Excellent craftsmanship. Quality improvements. Thank you!"
Steve Falco (USA) – December 22, 2022
Ordered - Tremoline FT36-L3-SP Left handed, Stainless Steel double locking tremolo


"Looks good, feels good, plays perfect, and keeps the guitar in tune now.
The measures of the nut fits perfect. Lucky shot. Thanks to you and your team for everything in this regard. I already posted this in the Peavey group at Facebook."
Martin Thiem (Germany) – October 28, 2022
Ordered - Tremoline FT36-R2-SS-modified, Stainless Steel double locking tremolo


"These are awesome with a much smaller footprint. I can remember who told me about them. I had a friend bring in 2 old Charvel a Model 1 and Model 2 they are the 2 main guitars from the tour he is on. The both got new l paint new necks and tremolines and he was in love with them when he left hear."
Frank Rizzo (USA) – September 29, 2022
Ordered - Tremoline FT36-R3-SP, Stainless Steel double locking tremolo
11 Dragovitsa str.,
1505 Sofia, Bulgaria, EUROPE
e-mail:info@tremoline.com
ASK FOR OFFER!
We will be very pleased to receive your opinions, notes and proposals.
Thank you for your interest to Tremoline Innovative Solutions!